Local walks for National Walking Month
Get walking this National Walking Month
National Walking Month takes place every May and is a great opportunity to get active and learn about where the local walks are in your area and what benefits you can feel from walking.
Feel better from going on walks
It has been proven that by being active (e.g. going for a walk) can actually help to improve your mental wellbeing. This means that physical activity is good not only for your body but it's great for your mind too.
Research has shown that physical activity releases chemicals in your brain that make you feel good – boosting your self-esteem, helping you concentrate as well as sleep, look and feel better. Not bad for something we can quite easily do for free! A few benefits of being physically active are:
less tension, stress and mental fatigue
a natural energy boost
improved sleep
We have picked out some local walks below and there are also some local community walking groups linked here North Bristol Walks, North Somerset Walking Group and Chepstow and Bristol Foraging Walks.
Three Brooks Nature Reserve
The Three Brooks Nature Reserve is a local nature reserve of approximately 44 hectares in Bradley Stoke. It's named after the Hortham, Patchway, and Stoke Brooks which run through it, meeting at Three Brooks Lake before flowing eastwards back under the M4 motorway as Bradley Brook.
The Three Brooks local nature reserve is a tranquil area placed right in the middle of Bradley Stoke. The reserve is made up of three bluebell woodlands linked by an important wildlife corridor that includes brooks, ponds areas of rough grassland, species-rich hedgerows and a lake. The rich mix of habitats provides a valuable place for wildlife, providing food and shelter to a wide range of wildlife, including reed buntings, skylarks, great crested newts and slow worms.
Whether you're wanting to walk the dog, jog or run during lunchtime, cycle with the family or go bird watching there's something for everyone to enjoy. The reserve is a popular breathing place, being so close to where people live and work. During lockdown, people have been using the nature reserve as a means of escape, going on long, much-needed walks and taking in the quiet and relaxing atmosphere it has to offer. The reserve can get busy during the weekends, but luckily there are so many routes and entry points to choose from, this shouldn't be much of a hassle.
p.s – If you fancy a walk through the reserve this week, be sure to bring your wellies as it can get very muddy!
A well-signposted network of cycle ways provides well-surfaced paths throughout the reserve for people to explore on foot and for buggies and wheel chairs. There are many access points into the reserve. For the easiest access, use the entry points at Primrose Bridge, the Willow Brook Centre, Bradley Stoke Community School, the Jubilee Centre, or Brook Way.
PRIMROSE BRIDGE (ROUTE 1)
WILLOW BROOK CENTRE (ROUTE 2) 
BRADLEY STOKE COMMUNITY SCHOOL (ROUTE 3) 
BROOK WAY (ROUTE 4)
THE JUBILEE CENTRE (ROUTE 5)
As well as calming walks, the nature reserve is home to the The Three Brooks Nature Conservation Group which was formed in February 2005 with the aim of conserving and enhancing the Three Brooks Local Nature Reserve for the benefit of local residents and wildlife in Bradley Stoke. The group works to keep the reserve well kept, clean and vibrant, so that your walks, runs and bike rides are as pleasant as possible.
The routes all start at the entrance to Savages Wood behind the Leisure Centre
The route is mainly flat, with a 100m section of downhill at the start and uphill at the finish and 500m intervals marked out along the way with directional posts as well. There are multiple turn back points, giving runners the option to do 1km, 2km or 3km routes.
Aztec West Business Park
If you like to walk, Aztec West is the perfect place to do it. Aztec provides a peacefulness to your walks, as well as flat terrain and long distances, so it's the perfect place to get your exercise in without having to navigate around a lot of other people.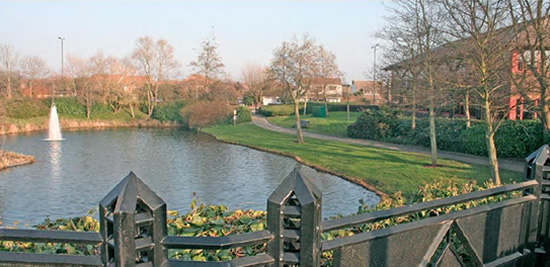 The business park is also home to two duck ponds, so whether when you are walking you can take in all of the peaceful beauty it has to offer.
Meade Park and Forty Acres
Meade Park is the perfect place for a family walk. The park is surround by trees, woods and pathways.
Forty Acres Nature Reserve is situated just opposite Stoke Gifford's Meade Park. The reserve is used mostly by dog walkers and families, but can be lovely and peaceful for the lone rambler also.
p.s – On rainy days, beware of deep puddles in the grass!
Little Stoke Park and Playing Fields (+ hidden hills)
If you fancy a long, quite walk, whether that's with your family, or alone, Little Stoke Park is a great place to go and get some fresh air.
If you fancy a long run, Little Stoke Park off a circular loop that is 1.4km long and completely flat terrain. For your run., start on the Little Stoke Lane/Maple Close side of the Park, run the whole loop to finish back where you started. The circular loop of the park is 1.4 km all of which is on flat, even paths, perfect for the absolute beginner.
Two laps of the park is just short of 3k, the perfect distance for the improving runners.  Three laps of the park with a finish at the community hall is 4km. For those runners wanting a little more of a challenge, three complete laps, plus the added finishing section through the middle of the playing fields makes up an accurately measured 5k route which is also the Saturday morning Parkrun route. The route has been marked with 1km Run England 3-2-1 markers for training and timing purposes. On the grass lap, please keep off the football pitches – There is a section of grass through the middle of the field for runners and walkers.
Little Stoke Park also has two playgrounds. One is primarily for younger children with swings and monkey bars, while the other boasts zip lines and a large basket swing.  The park also has a BMX track near the edge of the park, and lots of decorative trees as you walk down the pathway.
Across the road from Little Stoke Park sits Little Stoke playing fields. The fields are mostly used for football training, but is also used by families wanting to go somewhere a little quieter than the park, or dog walkers who want to be able to use the whole field for themselves. The fields are completely quiet within the week, and the weekends only see one or two people using it, so if you're looking for somewhere quite to walk your dog, or be with you family, the playing fields are the perfect spot.
p.s – On rainy days it can get quite muddy, so bring your wellies!
If you follow the pathway left out of the playing fields, you'll soon come across another patch of grassland. It boasts hidden hills and a small wooded area. Over the years, this spot has become the best for snowy days, but is also lovely and peaceful to walk around, whether it be raining or shining. The hills can be slippery and muddy, but are perfect for family walks and walking your dog.
Gorse Covert, Scotts Park and BMX Track
Gorse Covert is a small local nature reserve. It is a little oasis for people, and wildlife living in Patchway.
The small woodland is surrounded by housing on the north and south sides. A public path enters the woodland from Coniston Road and this and many other informal paths within the wood are well used by local people. A popular cycle path that connects Cribbs Causeway to the Bristol North Fringe runs alongside the woodland. An active conservation group helps to look after the reserve.
Within Patchway, you'll also find Scotts Park. The park is the perfect place for a walk with your family, or for the lone rambler wanting to get out and get some exercise. Within the park there is a small skate track.
Just a short walk from Scotts Park, there is also a BMX Track (the tumps) used by young amateur's and professionals alike.